My devices/Services
You can find all your connected devices on the "devices/services" tab. There are three types of devices: physical devices (Mac, PC, Android phone, iPhone, etc...), online service (Office 365, Outlook.com, iCloud, Gmail, CRM, etc...) or App (Microsoft Outlook, Mail/Calendar on Mac, online address book, etc...). Devices contain all your multiple Contacts sources (Exchange, Gmail, iCloud), where you usually use/access your contacts through the device unified Address book, Contacts or People App.
You can see the device type icon, device name and date of last duplicate scan.
You can add more devices, manage or remove them, and restore data. You can also start searching for duplicates by clicking the button bellow.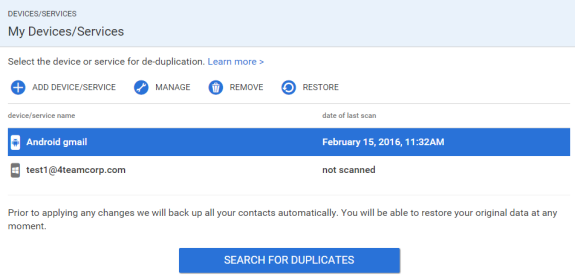 If you have any questions, you can write us an email, contact us via live chat, or call via phone.<![CDATA[ ]]>