Final report
Final report is the information about the finished duplicates removing process. You can see the following information:
Number of issues found and solver during the scan;
Merged duplicates;
Removed junk contacts;
Merged Similar contacts;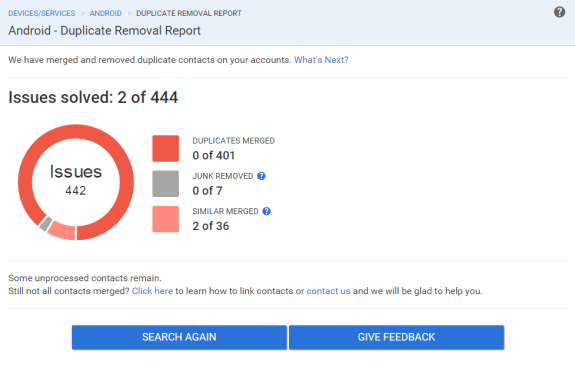 Unprocessed contacts.

If there are any unprocessed contacts, you will also see the notes section.
We have merged, removed and synchronized duplicated contacts on all your accounts. Now your contacts have full information. You have the same contacts on all your accounts.
You can run search again, try our sync solution or share it with your friends.
You can run "Search again" or review the resulting contacts on your accounts and devices. Please note that it can take some time to synchronize changes from accounts to a device. Once it is done, there still might be un-linked contacts from services such as Skype or Facebook on your device. Click here to learn more on how to link contacts.
If you have any questions, you can write us an email, contact us via live chat, or call via phone.